Last month our team worked with Jenneen Ameres, a professional home organizer and owner of Conquer Your Clutter, to revamp her client's master walk-in closet in Mahwah, NJ.
The client's closet had old wire shelving, the cabinetry was falling down and there were several spots of wasted wall space, so Jenneen was called in to help. That's also where we came in.
Our installers ripped out the old closet system and put in all new white cabinetry. From there, Jenneen reorganized the entire house including two floors, the basement, and the garage.
We recently caught up with Jenneen to learn more about her process, her tips and tricks, and how a clutter-free home leads to a positive mentality.
How did you get started into the home organization business? What were your inspirations?
About five years ago it started with a good friend of mine who was moving. I helped her with everything from purging, packing, organizing, selling online, and a garage sale. When she moved into her new home, I helped with that process as well. From there I continued to work with family and friends.
I just had a knack for it. It sounds cliche, but I found a passion for organizing. It was a process I enjoyed from beginning to end. Then about two years ago, I officially started my business, Conquer Your Clutter.
What do you like most about home organization?
It's hard to pinpoint one thing, but I truly appreciate when someone lets me into their space. I find it humbling because many people feel embarrassed or overwhelmed by the quantity of things they have, or by the lack of organization in their homes. I welcome the invitation and task at hand. Every job varies, so each experience is different and that keeps my job interesting and challenging.

A "before" picture at this client's home. Photo Credit: Jenneen Ameres
Your goal is to better someone's personal space which reflects their mental space. How does one affect the other?
When people have too much clutter, it overwhelms them mentally and emotionally. They look at their belongings and sometimes there is an emotional attachment. Your physical surroundings can affect your stress levels, ability to get things done, and some lose sleep over the situation.
I find that clutter can be a burden in your life and often clients need a professional organizer to come in and lead the way in a non-judgmental approach.
What does your consultation and organization process look like? Can you walk us through that?
It's usually done in-person, but I have virtual consultations too. I assess the situation, take photos, ask about their vision/needs, and take measurements. I then present a proposal with organizational solutions, timing, and pricing. Next, I do shopping for the client, roll up my sleeves up, and get started within their home.
For organizing, there are two methods I use. The first is working one-on-one with the client and asking them how to best downsize their personal belongings – keep, donate, trash. The second is kindly asking them to step out so we can start putting everything in its proper place. After purging a closet, pantry or playroom, we put things into similar categories, put them away, and label everything. We really work together on what would be the best solution for my client.
What are the most common issues that your clients have? How do you solve them?
The number one issue as a society is we have too much stuff. We live in a world where it's only a click away to order something on Amazon or Target, and we tend to buy in excess. We have so much accessibility to shopping. I always remind my clients after a session to really think about their space, if they truly need something, and if there's a space for that item. It is important to continuously purge. It's far less overwhelming when you have an on-going donation bag. Organizing is not an end destination, it's a process.
View this post on Instagram
What do you think are the main benefits of having a super organized closet?
It's a time-saver for sure. When you're organized and know where everything is, you feel a sense of calm. You approach your day differently when everything is in its designated space. Let's face it, our closets are going to get messy from time to time and that's life. However, if you maintain a neat space, it will benefit your physical and mental well-being in the long run.
With this recent walk-in closet job in Mahwah, NJ, can you tell us what this client was looking to accomplish?
We did an entire house reorganization. The first floor, second floor, basement, closet spaces, and the garage. Her closet was a space she hadn't used in years. There was a wire system that was falling off the wall, the walls needed to be painted, and my client had quite a bit of clothing and shoes.
So we recommended Closet Butler and another closet company so she had two estimates to choose from. She felt a connection with Joan and that's what brought her to Closet Butler.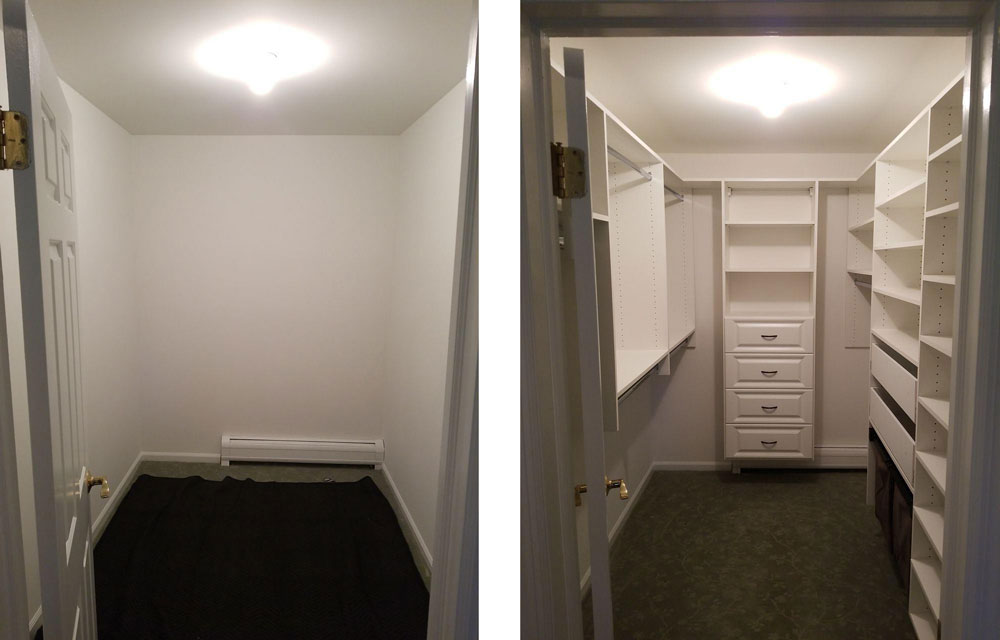 How was working with Closet Butler?
I often recommend Closet Butler to my clients, from my own personal experience with Joan five years ago. I built my first home in Wyckoff, NJ, and Closet Butler did my entire home with several bedroom closets, coat closets, master bedroom, and the kitchen pantry.
This particular client worked one-on-one with Joan and they came up with a closet system. I reviewed the plan then made a few suggestions and tweaks. Shortly thereafter, the plans were finalized and the closet was installed. Prior to installation, my client had her walls painted and carpets cleaned. It was a true transformation. After the closet was installed, we came back in to do a second organization and put everything in its proper space.
Photo Credit: Jenneen Ameres
Did the client have any special requests during this project?
This client had many belongings that she wanted to donate (including brand new items with tags) to certain charities such as the Girls and Boys Club of Paterson and Passaic, and local consignment shops that benefit schools in the area. So we did exactly that.
View this post on Instagram
Do you think that owning less and downsizing your stuff is becoming more popular with the rise of Marie Kondo and others?
I always say that the next generation doesn't want our hand-me-downs. Yes, of course there are exceptions to the rules. I truly believe less is more. Can everyone live like Marie Kondo? No. But it's a great method to get people started who really need guidance on how to live a life with less clutter.
Is it challenging to convince a client to get rid of items?
Absolutely. I always say I can't help a person unless they're willing to want the help and change. If they're going to hem and haw over every item we go through, it's definitely a challenge. The client has to be ready, willing, and wanting to maintain that after we leave. Like with anything in life, it's something you have to work on.
Is there anything else you'd like to add?
There isn't one organizing system or approach, there are many. You have to use and do what's best for you and your space. Create a routine of putting items back in their designated places. Organizing is about creating systems that cater to your needs. Organizing is a process. Don't be hard on yourself and do what works best for you --- and what's realistic to maintain over time.
Are you in need of home organization help in New Jersey?
Follow Jenneen Ameres on Instagram:
or visit her website at:
Thanks for sharing your story with us, Jenneen. We certainly look forward to working together again in the future.