Whether you're building a brand new home or you're just in need of a room makeover, you should know how to prepare for a professional closet installation.
So we asked our design team to help put together a guide to show you the process from initial concept to completion. Here's what to expect.
What preparation should I do beforehand?
You'll want to be able to explain in detail the type of room you're looking to remodel, the goals within the space, and any unique requests. You'll also want to get the dimensions of the space. If you're not sure how to do this, that's ok. Your designer can help.
When you reach out to a provider, try and send a photo or two of the area. The more detailed your description, the better.
(Closet Butler Designers: Erin & Joan)
What will the consultation entail?
During the consultation, you'll speak to an interior designer and learn more about the closet build process. We recommend visiting your installer's showroom and/or website to review the design options offered.
From LED lighting systems to hardware tools, here's where you'll decide on the smaller details of your storage system catered to your specific needs.
The goal is to have an area that's organized for higher efficiency, but also feels and looks more open and comfortable.
What should I expect when meeting with my interior designer?
Your interior designer will meet with you either at the showroom or at your home to take measurements of the space. They might also want to go through your wardrobe with you, noting each piece of clothing, shoes, and accessories to custom design a storage system based on your personal belongings.
If you have a large shoe collection for example, this is something that your designer would consider and perhaps suggest a larger shoe rack versus the standard option.
How long does it take to design a custom closet?
Depending on a couple of factors, the design process typically takes about one to three weeks, but could take longer if custom parts must be ordered (mirrors, custom knobs, etc).
What's included in the consultation?
Your designer will provide a 3D model design based on the room size, wardrobe specifications, and your design preferences.
The two of you will sit together to review the 3D model at your home or in the showroom and make sure that the specifications are well-suited for you.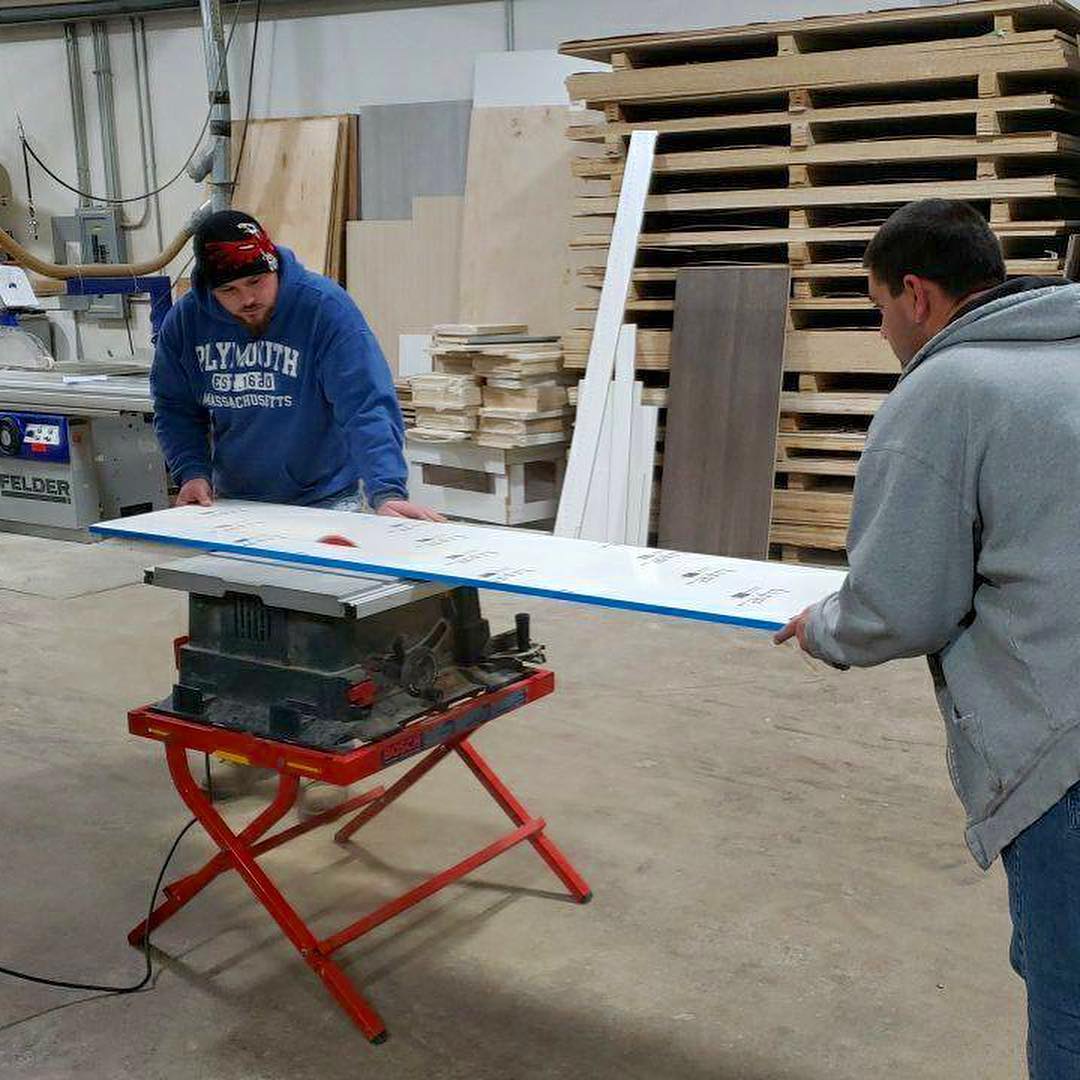 How long is the process from consultation to installation?
Usually in just a few weeks (or potentially sooner), your closet should be ready for installation.
How do I prepare for a custom closet installation?
When renovating a space, closet installation is usually one of the last steps. For greater efficiency, we prefer to install in an empty and clean space. Try to remove all clothing and accessories ahead of time.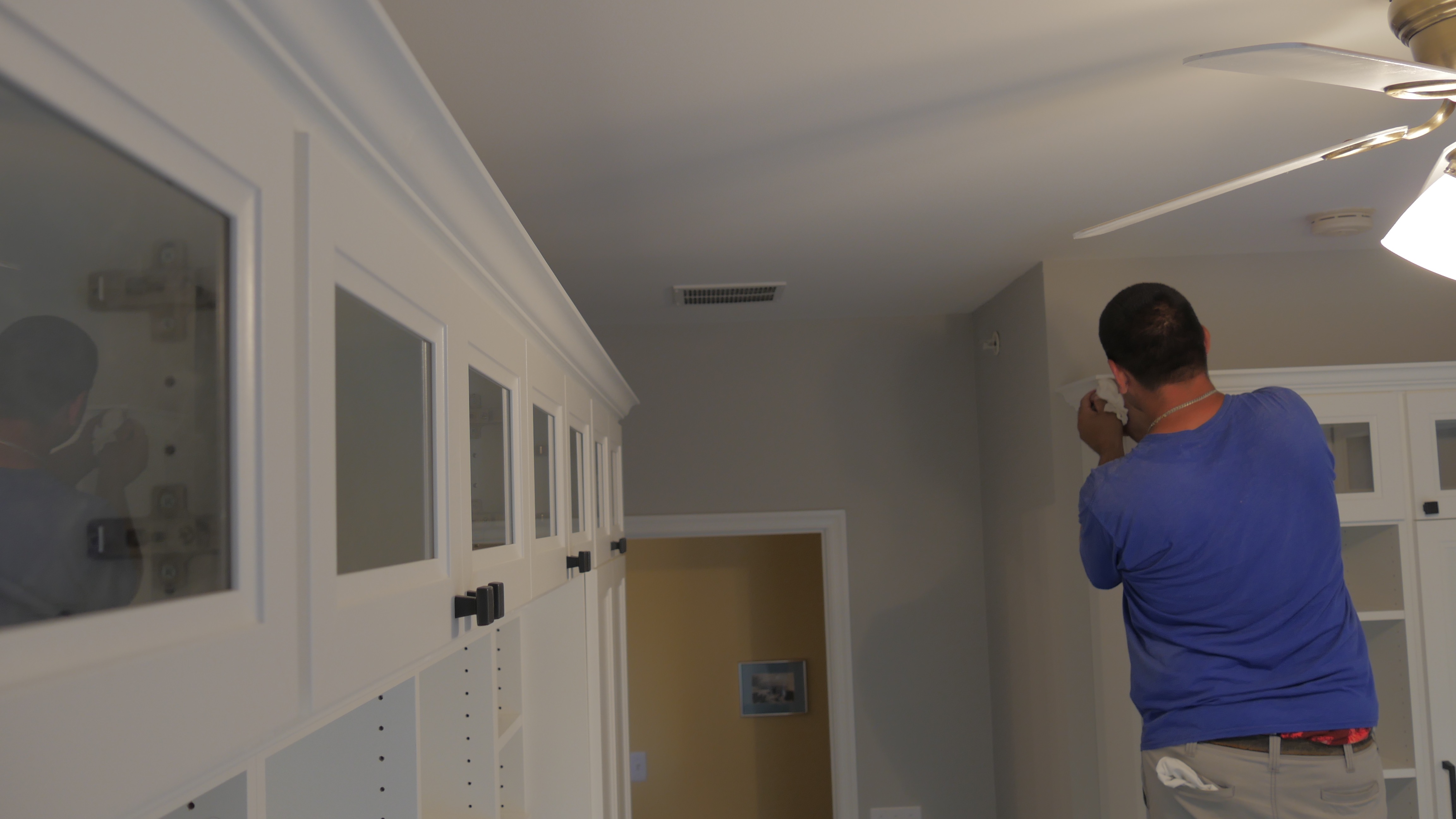 (Closet Butler installer at a home office makeover in Woodland Park, NJ)
How long does installation take?
Closet cabinets can be installed within a matter of hours for small spaces and might be one to two days for larger closet needs. The workers will arrive at your home to begin the building process. They'll bring the materials, and ensure no mess is left behind.
Will I get some sort of warranty?
That will depend on the provider you choose. Here at Closet Butler, after we install a closet, we offer a 10-year warranty on all aspects of our work.
What's the final step?
The final step is you adding in your finishing touches to your new closet --- your wardrobe, decorations, mementos, and more. Lastly, we always recommend taking pictures of the before and after to see how far your space has come!
(Before & after white walk-in closet system in Fair Lawn, NJ)
Since 2004, Closet Butler has been working with homeowner, interior designers, and contractors to build custom storage solutions in New Jersey homes. We are your local full-service designer, builder, and installer of custom organization systems for your home.
Thank you for reading.