We recently had the pleasure of working with a wonderful family to make over their kitchen pantry. They had just recently moved into their new home in Glen Ridge, NJ. There was furniture already built-in and they weren't able to use the area for storage due to the space constriction. That's where we came in.
The space
The area was small and there were large coat racks from the previous owners taking up most of the space. The family needed a storage solution that freed up some room for food items.
This is an older home with limited storage and a finished alcove under the stairway that was originally used for coat storage. The client thought the space could possibly be used as a pantry, but it was difficult due to the limitations of a window and sloped walls.
Before:
(Pictured above is the window and the former black coat rack furniture)
After:
(Pictured above: built-in shelves and pull-out racks.)
The process:
Our client came to us for a consultation to view their options through Home Advisor. Customers often come to us with this situation because you can't just go into a store and buy something off the shelf to fit and function in a space like this one. It needed to be custom fit.
There were a few meetings throughout the process to discuss the needs, design, 3D Model, and material options. We showed the customer the options of organizers that we can install in a pantry which included slots for platters, spice organizers, baskets, doors, drawers, wine organization, and more.
The next step was choosing from the various options for color and hardware finishes. The kitchen is white, so the white finish became the best choice. As far as hardware options, customers always have the choices of polishes chrome, nickel, brass and oil rubbed bronze for baskets, clothing rod hardware, and drawer and door hardware.
(Mid-construction photos)
The client also decided to make the extended kitchen pantry more lively. They decided to choose a mixed polka dotted print for wallpaper throughout the space. It was a fun design choice that lit up the room.
Built-in shelves & storage
One of the most important aspects of this install was the built-in furniture. We needed plenty of function space within this area so we added built-in shelves and pull-out racks. The client chose baskets that would hold snacks, dry items that don't sit well on a shelf, and wine holders. Adjustable shelving also allowed for more storage.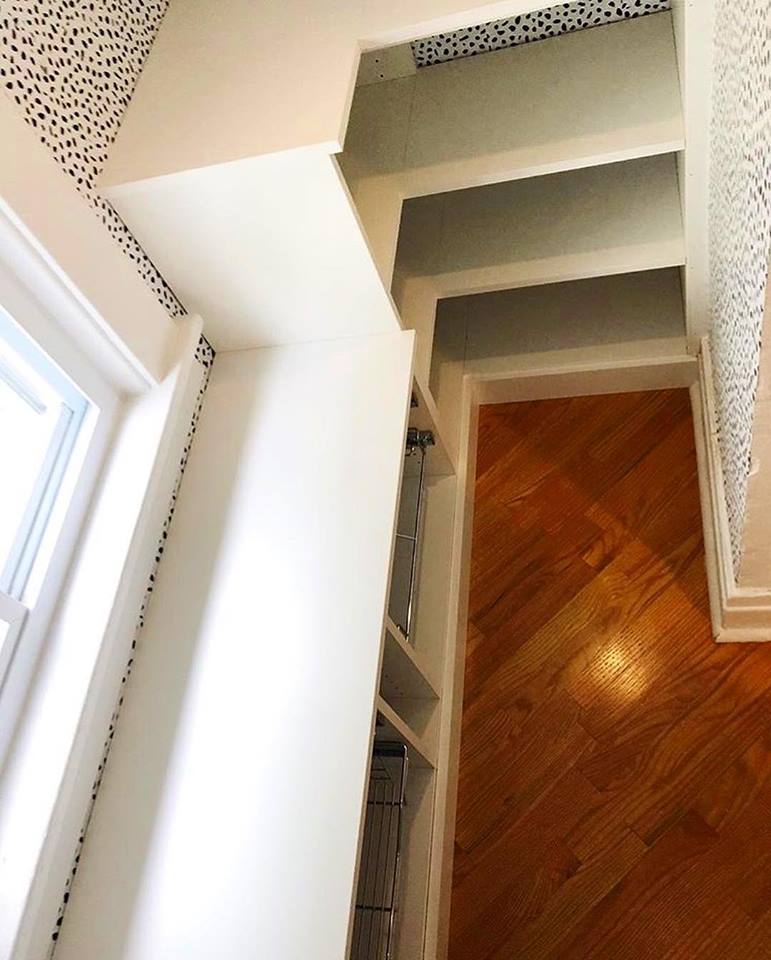 (Pictured above: adjustable shelf storage and pull-out racks)
Building closets on curved and sloped walls can be a bit tricky, but we're always up for the challenge. The kitchen is the heart of the home and that's why we pride ourselves on creating functional storage systems that suit our clients' needs.
Thanks for reading.