Last month our team had the pleasure of working with a newlywed couple who purchased their first condo together last year in Riverdale, NJ. We sat down with Christina P., to learn more about her experience with us and her collapsed closet transformation.
What made you reached out to Closet Butler?
We had a walk-in closet and wanted to use the space as much as we could. There were cheap and bulky materials inside from the previous owners and there was space we couldn't use which frustrated us. I came home from work one day and all of my clothes actually fell down. Everything was on the floor and I was so upset. From that moment we decided we needed to do something. We Googled custom closet companies near us and Closet Butler had great ratings. We called, Joan came out, and she was so helpful.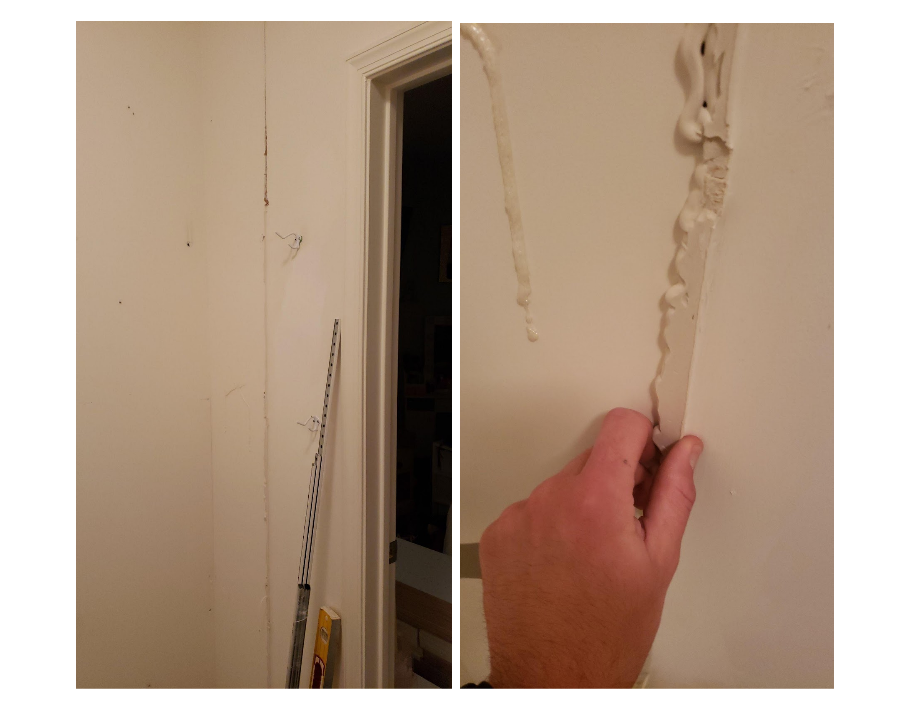 Pictured above: The damage done by the previous closet system.
How was your first contact with Closet Butler?
We called and we both spoke with Joan. She was really good at communicating because she wanted to speak with both my husband and I to get a feel of what we both wanted. From there she scheduled a time to come out to our condo and meet us. Our original appointment was set to May 30th, but we begged if there were any openings because our closet wasn't usable at the time. Joan called us in April with an available opening and happily we took it.
Can you tell us about your design consultation?
Joan measured everything including each pair of shoes I own. The original space did have a shoe rack, but I couldn't even fit one pair of shoes in each hole. She saw that I had many pairs and noticed I couldn't put them away properly. From there she made a design that can store over 20 of them. I also own a lot of long dress gowns, so she made sure I had a section where the rod was higher up so I could hang them straight and not folded. For my husband, he's a realtor and wears a lot of suits. He wanted to be able to put them away and have a section for some shoes and ties. Joan went over the measurements, how to utilize the space, and made the design at our kitchen table right in front of us.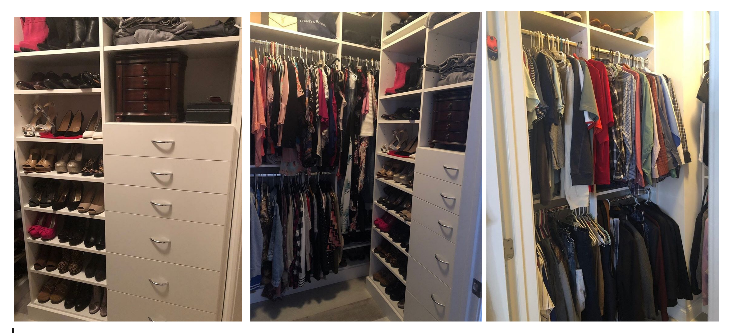 Photo Courtesy: Christina P.
How were the workers who installed the closet?
The installer was great. He came in, did everything he had to do, and it was a fast installation. He arrived at our home by 9:30am and left around 2:30pm -- it was quick. Our Pomsky dog, Jax, was also in the condo and we didn't want to bother the workers because he loves people. But they were completely fine with Jax and we didn't have to block him from getting in his way. He didn't even bark at them.
View this post on Instagram
Jax the Pomsky on his Instagram account.
Did you have any special requests or unique closet needs?
Yes. Our bedroom is a little small because of our king-sized bed occupying it, so we didn't have a dresser in the room. We wanted a section in the closet to have drawers so we could utilize that.
What did you like most about working with Closet Butler?
Joan was so easy. She really listened to what we wanted and even made more than one design option for us to choose from. I like that because sometimes closet companies will give you one design option and that's it. Joan actually gave us three options. We originally wanted the drawers by the closet door entrance, but she explained that it would take away a lot of space by doing that. We really took her opinion in and she offered that if we put the drawers on the right-hand side, it would give us way more space. She even gave us time to think about it and was never pushy. I don't like when businesses are pushy and she wasn't like that at all.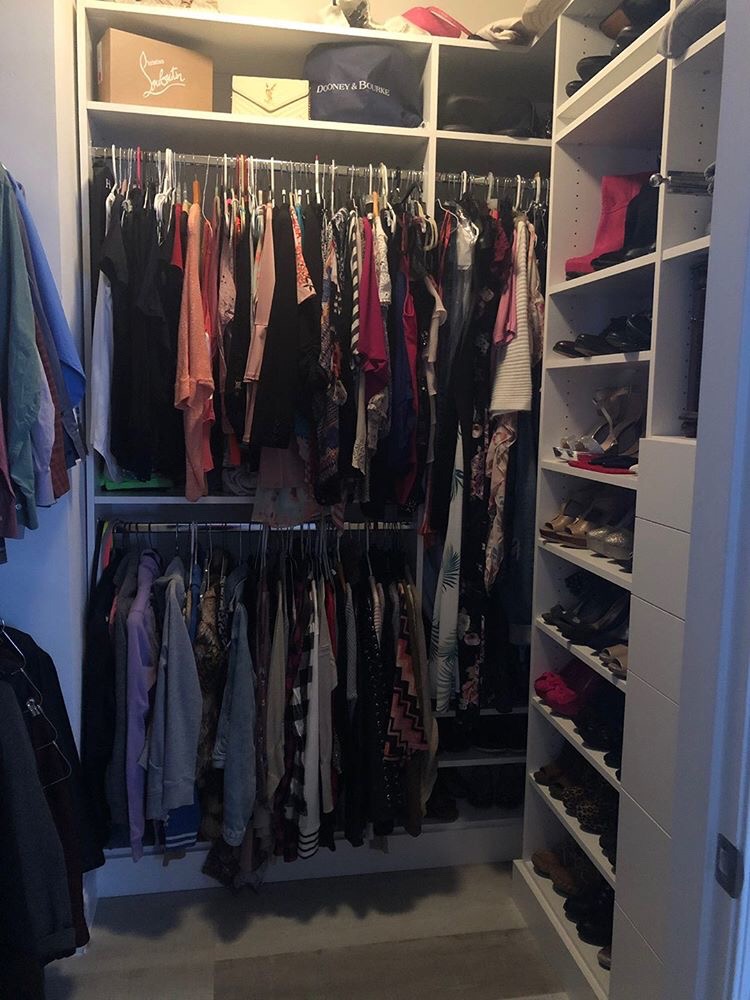 Photo Courtesy: Christina P.
What would you say to someone who's thinking of using Closet Butler for their next remodeling job?
I already referred someone to Closet Butler because they saw my Instagram story of the new closet and noticed the transformation. They couldn't believe it and said, "That's not your closet!", because they knew how the space looked beforehand. They really aren't trying to take your money and do look out for you and your bests interests to utilize the entire space. I would say it's an easy process, you're getting what you pay for, and that's what we got. We're very happy and satisfied with everything.
Thank you for sharing your experience with us Christina. We're so happy you have a new organized space in your new home.