Earlier this summer, we had the pleasure of re-visiting Kaitlin U. for another project at her home in West Milford, NJ. About three years ago, our team installed a white cabinetry system for her bedroom closet. Last month we were called back to redo her kitchen pantry storage. Here's how both projects turned out.

Can you tell us about your first experience with Closet Butler?
We had this awkward extra room that was too small to be a bedroom. We installed central air and with the closet that was originally in it, the shelving had to be removed. I searched online for custom closet companies and since my boyfriend works in the area, he saw Closet Butler and decided to check them out. We looked at other places like California Closets, but they weren't as personable. When I reached out to Closet Butler, Joan was super nice and wonderful to speak with.
(After installation)
What made Closet Butler "more personable"?
The person at the other company didn't want to come out for a meet and greet like Joan did. They also wanted me to send the dimensions --- which wasn't what we were looking for. It was little things like the radiators and how high off the ground the shelving needs to be that you don't think of. We wanted someone to come in, help us, and say what works best.
There were some ideas we wanted and Joan took them in with her honest opinion. She mentioned she had other clients that usually don't do certain options and normally do it another way, which we were appreciative of. For example, we wanted a shoe shelf and Joan mentioned that if we wanted a raised closet, we'd be able to put the shoes underneath and wouldn't need to do it that way. She suggested to use eight shelves instead which worked out better for us.
Even though we were adamant, we took some of her suggestions and combined our thought processes.
Did you get a chance to visit the showroom?
We did. We visited the showroom since we're in that area most of the time. Originally we weren't going to upgrade the closet rods, but we went down and picked out what we wanted.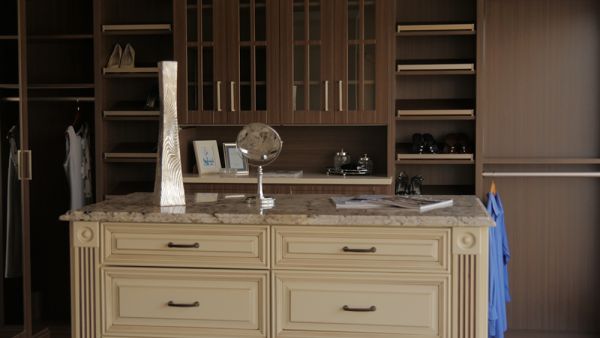 (Closet Butler Showroom)
Can you tell us about your design consultation for both projects?
The first time we used Closet Butler, Joan sat with us and created the entire closet design right at our house. For our second time, Joan took measurements of the area and designed a tiny kitchen pantry for us because it was a small space.
How were the workers who arrived at your home?
The guys were awesome and super nice. It was a really warm day and we didn't have central air at that time. We put an air conditioner in the room and they were so appreciative. One gentleman ended up being the same person to build our kitchen pantry too.
Did you have any special requests or unique design needs?
The only request my boyfriend had was to have a big shelf in the corner for his belongings and Joan was able to do that for us. We ended up doing a 90-degree angle shelf in the left-hand corner. Even though he only has work clothes, it was the only thing he wanted. We were very happy with it.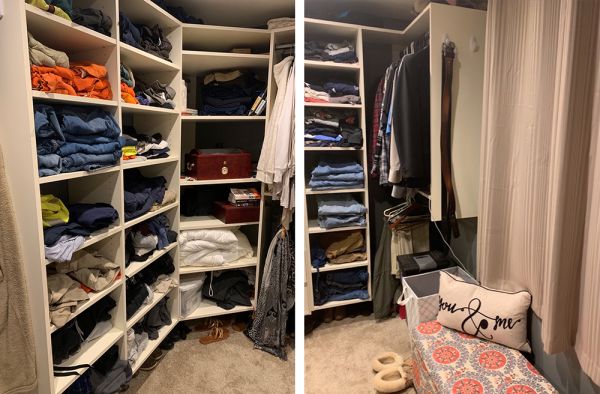 (90-degree shelving)
What was your favorite part of working with Closet Butler?
Just how easy the process was. They always got back to us. I work in customer service so my manager has a big emphasis on being responsive to your customers. Closet Butler was responsive, nice, and everything was easy. Sometimes companies aren't honest about billing, but they were up-front if there were any extra charges. It was an honest and easy process which is what I wanted.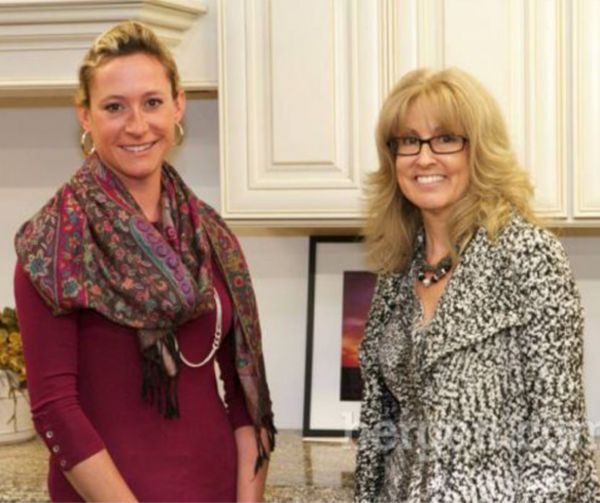 Closet Butler Interior Designers: Erin (left) & Joan (right)
What would you say to someone who's thinking of using Closet Butler for their next remodeling job?
Do it. My original plan was to go to IKEA and put something together. I'm so happy we didn't do that because you're in your closet every day pulling clothes off rods, opening drawers 100 times a day, so you want something with quality. It wasn't like I was putting a simple drawer in my living room. This is something I'll be using all the time. The quality and craftsmanship is awesome.
Is there anything else you'd like to add?
The gentleman who installed my pantry and Joan both noticed the inside work I've been doing to make my home look nicer. They both said the house in general looked wonderful. We were redoing our entryway and to have people come back in three years saying the same thing is awesome for them to notice.
Thank you for letting us share your closet and pantry experiences, Kaitlin. We're honored to have been a part of your home remodeling process.