This month, we sat down with Jaclyn B. from Fair Lawn, NJ, to talk about her recent master walk-in closet installation and to find out why it's her new favorite room in the house.
What were you looking for when you reached out to Closet Butler?
We had a walk-in closet but it was quite small, so we built a larger space and we were looking to design a closet that would really organize things for my husband and myself, and have a really great layout for us.
How was your first contact with Closet Butler? Did you call in or visit the showroom?
My stepfather used Closet Butler for some closet work in the past and he gave me the contact information. I called and spoke with a gentleman who was super accommodating, and he made an appointment for Joan to come out to our house.
What was the design consultation process like?
It was so easy. We reached out to a few design and closet companies to get quotes, and the process of Closet Butler was so much easier than the other companies we encountered. Joan came out to our home and sat with us right at our kitchen table. She asked what we were looking for, our design interests, went up to our bedroom to look at the space, and took some measurements. She then opened her laptop, designed it right there in front of us, and asked a few more questions: if wanted belt racks, tie racks, laundry baskets, and things like that. Joan was able to give us the quote right there and then.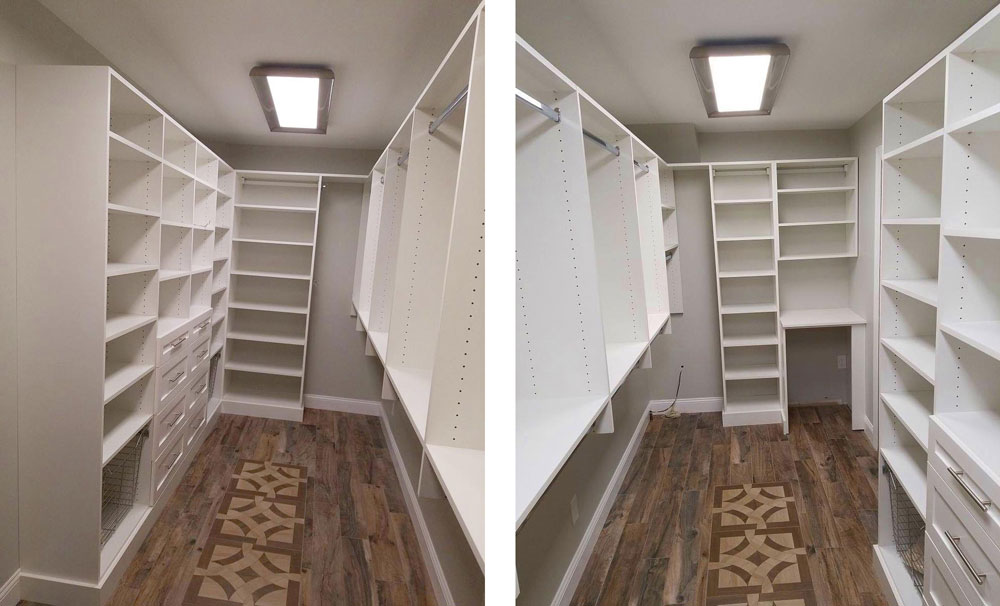 The other competitors actually put it on me to take the measurements and it made me really nervous. It's not my forte. Some of them were going to send the cabinets and once they got here, someone else had to install them. There was another company we looked at and it just had so many things to look at. Their design process wasn't streamlined and it was a little overwhelming. I really appreciated that Joan was direct, effective, and had a lot of products to offer us based on what we were looking for. She was able to streamline it for us.
Did you have any special requests or unique closet needs?
The closet is very long, but it's not as wide. So one of our needs was to not feel closed in within the space. So we decided to put all of the hanging belongings on one side of the closet, and all of the drawers and shelves on the other side to allow for more room. Joan was able to make a really nice design that accommodated that.
We saw your Instagram comment about this room being your favorite part of the house. What makes this space your favorite?
It's super neat and organized right now and hopefully it stays that way. We put a refrigerator in there with some water, wine, and beer. We even hang out with our Yellow Labrador and cats in there. It's bright and I feel like I have a new wardrobe because I can see and find everything, and find myself saying, "Oh! I forgot I had that."
What was your favorite part of working with Closet Butler?
I was really pleased with so many parts of working with them. But I was really impressed by the final product. The value for the product I bought was quite reasonable. It surpassed me and my husband's expectations and it looks awesome.
What would you say to someone who's thinking of using Closet Butler for their next remodeling job?
I would say go for it. I spent a few months time looking around, going to different showrooms, trying to work with different companies, and by far, Closet Butler was the most professional, accommodating, and reasonable.
Is there anything else you'd like to add?
Joan was amazing. Sometimes it can be uncomfortable having someone in your home but she was great, warm, easy to work with. Our Yellow Labrador and cats hung out with her while she was designing the closet, so she was really great to work with. It was wonderful working with you all and I love my closet.
Thanks for sharing your story with us, Jaclyn. We're so happy that you have a new, organized, and fun space to be in.