This week we caught up with Kathy W. from Ramsey, NJ, a self described "true-believer in organization" to talk about her recent closet installation project with Closet Butler.
What were you looking to accomplish when you first reached out to Closet Butler?
Organization. We just built a brand new house this year. In our past home of 22 years, we eventually had closet organizers put in long after we had built the home. This time around I told my husband, "On day one we're getting closet organizers... as soon as we move in."
What was your initial contact with Closet Butler like? Did you call in or visit the showroom?
I was referred to Closet Butler by a a good friend of mine who was a past client. I've been in her house many times and I've seen all of her stuff and how happy she is with everything. So I wound up getting a few different quotes and I ended up choosing Closet Butler.
What was the design consultation process like?
I just made the call to ask for a consultation. I didn't know if they came out to the home to take measurements and how that all worked, but Joan called me and walked me through everything. She came out to our new home and showed me the designs on her laptop. I never actually had to visit the showroom. We did it all right here.
How would you describe the installation process? How were the workers who arrived at your home?
It was a new construction, so I wasn't there when everything was being installed. But I saw everything afterwards. I never met the installers or the project manager on-site. I came afterwards and saw everything done. Everything looked great.
Did you have any special requests or unique closet needs?
My son has a collection of over 30 pairs of Nike Foamposite sneakers, so he has a special section for his shoes.
He started collecting them at 15 or 16, and he's now 20. He obviously didn't want to part with them when we were moving so we needed a space for this.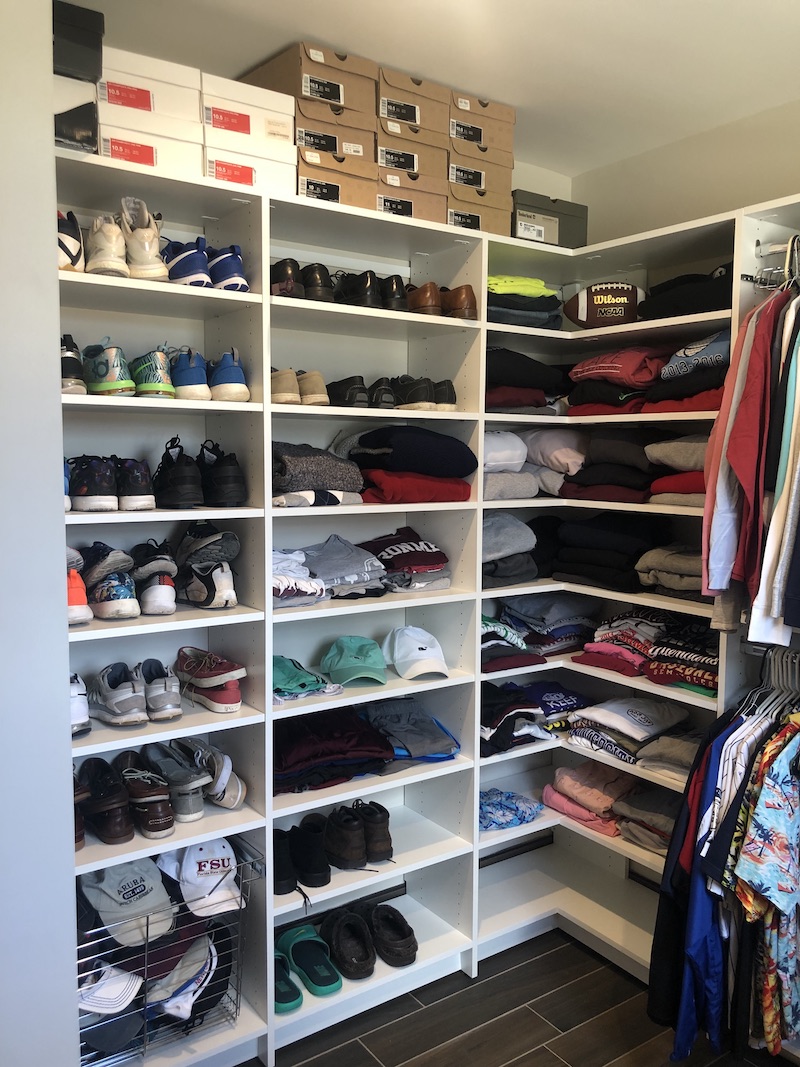 As far as dressers go, we didn't want any in any of our bedrooms. We did a middle island dresser in each closet, then a side-by-side in the master so my husband and I each have our own set of drawers.
My daughter has a double in her closet and my son has the same in his. I'd say it all worked out pretty well.
Can you send us some pictures of the finished space?
Absolutely. I'll definitely send you before/after photos. I love it.
We have an open floor plan in our new house, so we don't have a lot of closets anymore. So the closets we do have, I want them extremely organized. We have a stack washer/dryer on our first floor, and it's in a closet.
I actually had Joan come back the other day and asked her to give me some ideas because now I don't have a pantry for my cleaners, brooms, mops, and all that. So I asked her draw up some designs for me to go around the washer/dryer so I can put some stuff in there. She just sent me stuff for that too. It's pretty exciting, but it's a lot of work.

I recently went through my kids' stuff from the toddler years and sifted through all of that because now they're teenagers. One is 20, and one is away at college. My daughter is down in Florida and I sent her pictures. She can't wait to be home and see everything.
What was your favorite part of working with Closet Butler?
Joan is a pleasure, she is so easy to work with. She gave me a lot of recommendations, and she's very personable, responsive, and quick to get back to you. I'm sure Joan has been there a long time because she did my friend's house six or seven years ago. She worked with Joan then and she was amazing to work with.
I loved that she wasn't pushy like some of the other companies we looked at. You know what you want and you don't need people hawking you. We had another company from Wyckoff that just kept dropping off brochures.
She seems to be very organized as I assume most people who do closets are, because other people wouldn't care. They would just do the closet and be done. But not Joan. Like me, she is a true believer in organization, and I love it.

Closet Butler Designers, Erin & Joan.
What would you say to someone who's thinking of using Closet Butler for their next remodeling job?
I would highly recommend it to make better use of your space. It may seem expensive, but you get what you pay for. Some people may think closets aren't affordable, but it's like anything else. You can go crazy with this stuff. But you can also go with standard options and have it look beautiful as well.
How likely would you be to recommend Closet Butler (on a scale of 1 to 10)?
Definitely a 10. I think that if someone does something they love, they become passionate about it.
Joan counted stacks of clothes in our closets, my son's shoes boxes, the stuff we had piled up, and gave us options on where to put everything.
My husband is a home builder. He's been doing it for 20 years. He thought that we didn't need closet organizers and that the racks from Home Depot would be just fine. But the night we moved in, he saw our closets and couldn't believe how nice they were --- and admitted that I was right.
I would actually welcome prospective customers to come check out our space. I think seeing a showroom is one thing, but to actually see a finished product in a house is another.
Is there anything else you would like to add?
My son, who is 20, now actually puts his laundry away.